The post explains the method to delete a partition as well as merge two partitions on the windows hard drive.
Merge hard drive partitions is basically combining two partitions to make it one partition. Merging partitions is not only about combining two partition's which already exists, but can also be merging one partition with an unallocated space to expand the current space of that partition. Whether you combine one partition with an unallocated space or another partition you can get the extra benefits.
HOW TO DELETE A VOLUME :

1. Open the Computer Management tool: Type "Computer Management" in the search bar of the Start menu and press enter.


2.

Select the Disk Management tool:
Click on
Disk Management
on the left side of the window and you should see all of the disks and their partitions on your computer

.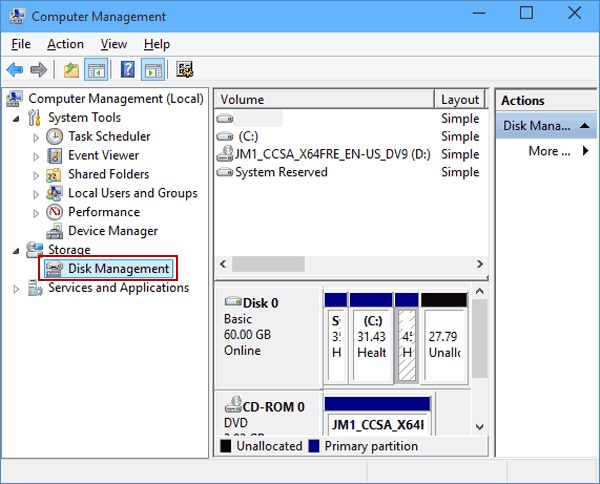 3. Delete volume:

If the drive contains any file/data,

Back up

or transfer all files into another drive. Then

Right-click on the drive you want to delete and press on the delete volume option. C
lick
Yes
to confirm the deletion of the current volume and all its content.
Now you can see an unallocated space.
HOW TO MERGE A VOLUME :
When you do partition the new partition can't stay the left side of the original, it always stays at the right. If you want to keep it on left you have to install a third-party application.
1.

Extend volume:

To extend a volume, right-click the existing volume which has unallocated space to its right, and then click "

Extend Volume

" .

2. Extend volume wizard: In the "Extend Volume Wizard" window, click "Next."


3.
Select disk:
The "Select Disks" screen will already have the appropriate disk selected. It also shows the total volume size and the maximum available space you have to extend the volume. Just select the space you want to use and then click the "Next" button. Here, we're extending our volume to use all of the available unallocated space.
4.
Final step:
And finally, click the "Finish" button to have Windows extend the volume.
If you think this article helpful for you, So please guys share this article, subscribe this channel and keep support
#WEBDISK
.
THANK YOU!