Earnkaro is the best affiliate marketing platform to make money online by sharing your profit link. Sign up with Earnkaro and get a lot of cashback profit by sharing your product link and also get a profit of 10% every time your referral friends earning.
 Guys we always want to open an affiliate account on different platforms but sometimes we can't get the opportunity.  Here you can create your own profit link at any E-Commerce site like Amazon, Flipkart, Myntra, etc.
You can enter through any referral link and earn a lot of bonus in your account which is easily redeemable in your bank account after riches Rs.10 or more.
You know very well about the big brands like Amazon and Flipkart affiliate systems. Small earners can't make money through that but it is so simple and high paying site. Here you can create your own profit link instantly and also share your profit link through WhatsApp. The tracking site is very responsive so don't miss any single purchase.
HOW TO SIGN UP WITH EARNKARO BEST AFFILIATE MARKETING:
Visit  this EARNKARO sign up page: [ click here ]
Enter your Full name, Mobile number, password, Email ID
Now click "GET OTP" and verify via OTP

Click on my account icon>>profit

You will see your account is ready to earn. Now earn at least 10 to withdraw this bonus directly to your bank account.
NOTE: Use chrome for better performance.
 

REFER AND EARN:
Click on my profile icon and choose to Refer and Earn Life Time.
Copy the Referal code or simply share it with WhatsApp, Facebook, or Twitter.
you can share the link to your friends for signup. You will get a 10% profit of your referral friends earning for a lifetime.
HOW TO EARN MONEY VIA EARNKARO PROFIT LINK: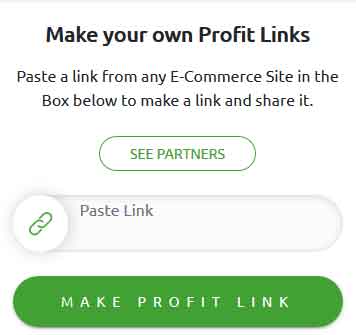 Find a product that you want to promote any of the listed partners.
Copy the URL of the selected product and come back to Earnkaro.com and go to make a profit links section and paste the URL in the box.
After pasting the URL, click make profit links button.
You will see a profit link is generated. You can share the link with your friends and your community.
Now sit back and Relax! Whenever someone shops using your profit link money will automatically get added to your Earnkaro account. The minimum redeemable balance is Rs.10.
HOW TO SHARE PROFIT LINK:
For more profit, Pick a perfect niche to create a blog and write content about this.
You can share your profit link through social sites like Facebook, Twitter, etc.
You can also share with Whatsapp and telegram. If you share on WhatsApp groups o telegram groups it will more beneficial for you.
BENEFITS OF USING EARNKARO:
Sell any product of big brand partners like Amazon, Flipkart, Mynttra, Limeroad, jabong, etc. all in one place.
Awesome profit of up to 30%
Minimum redeemable balance is Rs.10
Easy payment collection
Each time you will get a 10% profit from your referral friend's income.
Earnkaro application is now available on Playstore.